The Best Cadillac Auto Repairs and Maintenance in Gonzales
Come to Oil-N-Geaux for Reliable Cadillac Repair Services
Repair and maintenance for all Cadillac make and models including:
Cadillac XT5
Cadillac CT5
Cadillac CTS
At Oil-N-Geaux, located in Gonzales our well-trained pro mechanics are experts on the latest Cadillac repair and maintenance requirements to guarantee your luxury Cadillac is running perfectly. No matter if it is an engine problem, regularly scheduled maintenance or any other issue that may arise, we here at Oil-N-Geaux are trained to handle and repair any problem your Cadillac may face.
Cadillac, the Standard of the World, is an American luxury automaker that delivers the ultimate in American luxury and performance. Formed from the remnants of the Henry Ford Company (one of Henry Ford's attempts to start a car company before he founded Ford Motor Company), Cadillac went on to become the torch bearer for American luxury. Oil-N-Geaux in Gonzales is happy to provide the maintenance and repair services necessary to keep your Cadillac at the pinnacle of performance.
Cadillac, the luxury offering from General Motors, is best known for its advance suspension system that lets drivers feel that they are gliding down the road. But even the most advanced systems need maintenance and repair to keep them at their peak. Bring your Cadillac to Oil-N-Geaux for precision repairs done by experts you can count on. Oil-N-Geaux is in Gonzales at 14139 Hwy 44. Our service center welcomes drop-ins. Our staff will answer any questions or concerns you have about your Cadillac and will then quickly and effectively repair your vehicle and get you back on the road before you know it.
Call us at 225-647-2069 or stop by for a visit. Our friendly staff of Cadillac service technicians are ready to help you.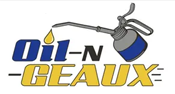 Friendly Staff
Very friendly y staff no long wait time get you in and out thanks for a job well done
Wanda J.